Midland Smooth Softshell Turtle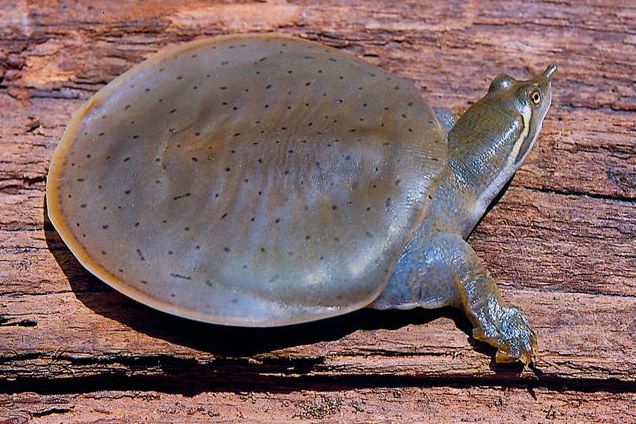 Scientific Name: Apalone m. mutica
Size: 6 - 13.4 inches (15 - 34 cm)
Status: Expedited (Only two records ever recorded)
PAHERP Resource: Have you seen me? Midland Smooth Softshell Turtle
Habitat:
Large rivers.
Descripton:
The upper shell is grayish olive to brown carapace with a flattened appearance. Females tend to have a darker shell and can be twice the size of the male. A cream colored line bordered with black runs down the side of the face starting behind the eye. The underside is white to cream in color.
Adult Coloration:
The carapace background color is tan to olive-brown to brown and patterned dark dots and short streaks or dashes.
The carapace may have a light marginal band that is bordered on the inside by a thin dark line.
The plaston immaculate white to greyish white.
The dorsal surface of the appendages are greenish orange to olive-green, with the venter ranging from white to grey.
A white line that is bordered by a thin black line extends from behind the eye to the neck region.
Adult Characteristics:
Large sized aquatic species.
Profile View – The carapace is extremely low.
Above View – The carapace is round to oblong in outline.
The plastron is slightly reduced and is smooth, and leathery.
The carapace is leathery and smooth.
The feet are strongly webbed.
The neck is very long.
The head is long, narrow and terminates in to a sharp pointed snout.
The nostrils are round in outline, and the septum separating them is smooth and lacks ridges.
Range:

May be Confused With:
Spiny Softshell (More Common and Abundant)
References:
Hulse, C. and McCoy C. J. and Ellen Censky ,1998. Amphibians and Reptiles of Pennsylvania and the Northeast. 238-241pp.
Credits: