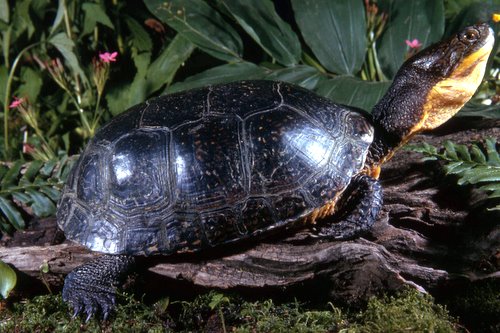 Scientific Name: Emydoidea blandingii
Size: 6-11 inches (15-28 cm) in length
Status: Candidate Species
PAHERP Resource: Have you seen me? Blanding's Turtle
Habitat:
Poorly drained lowlands, marshes, wet meadows, ponds, and slow-moving streams.
Description:
Medium-sized semi-aquatic /aquatic species. The upper shell is black often with a blue sheen and may have random small yellow markings. The underside is yellow with black blotches. The legs are gray to black, often with a blueish coloration and can have yellow to orange speckling. The underside of the neck is bright yellow. The shell is smooth on top and on the edges.
Adult Coloration:
The carapace background color is dull black to blue-black and covered with many small irregular yellow to tan spots or slightly radiating lines. Some individuals are patternless.
The plastron background color is yellow with large black blotches that originate on the posterior lateral surface of each major scute.
The legs and tail are blue-grey to blue-black with an occasional yellow pigment on the scales.
The head is blue-black on the top and sides and may have brownish streaks.
The chin and throat are bright yellow.
The jaw may be marked with dark bars.
Adult Characteristics:
Medium-sized semiaquatic/aquatic species.
Side View – The carapace is low in profile and lacks a keel.
Above View – The carapace is oblong and has smooth margins.
The carapace surface is smooth.
The plastron is large and attached by ligaments; not a bony bridge.
The legs are well-developed and the feet are webbed.
The head is large and flat on top, and the neck is long.
The tail is short.
Juvenile Characteristics:
Side View – The carapace is very low in profile.
Above View – The carapace is almost circular.
The carapace is black and lacks spots.
The head has yellow dashes and short lines on either side.
The plastron is yellow along the border with a larger dark central blotch.
The tail is long and slende
Range:

May be Confused With:
References:
Hulse, C. and McCoy C. J. and Ellen Censky ,1998. Amphibians and Reptiles of Pennsylvania and the Northeast. 222-225pp.
Ernst, Carl H. and Lovich, Jeffrey E., and Barbour, Roger W. ,1994. Turtles of the United States and Canada. 240-249pp.
Credits:
Tom Diez
Jeff Hankey
Don Becker (psychoticnature.com)